Volunteering in Shropshire
Whether you have just an hour, a day or a week to give, and whatever your skills, there's an opportunity for you to volunteer with Shropshire Wildlife Trust near where you live. Volunteering with us is a great way to learn more about the work we do on nature reserves and meet like-minded people who care about the natural environment. You'll gain experience and be able to use your skills to support our work.
You don't need lots of experience! Shropshire Wildlife Trust has practical volunteering opportunities at all levels, usually outdoors on our nature reserves although some of them are office-based, and relevant training is given before you start.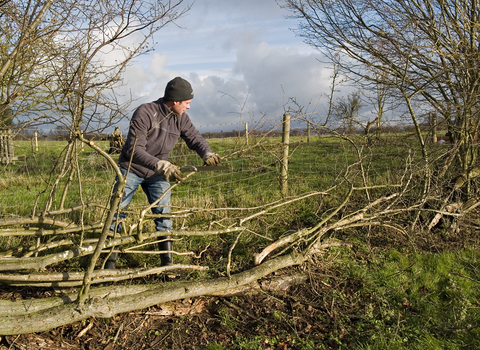 Current opportunities
Visitor Centre services at The Cut, Shrewsbury: reception, membership recruitment, events and activities, hospitality, site maintenance and more.
Winter work parties – Wednesdays, Thursdays and Fridays
Roving reporter
Outdoor education support for toddlers to teens,
Garden group support
For more information about these roles, please download the role description at the bottom of the page
If you are interested in any of the above opportunities, please complete the online enquiry form below and we will contact you within 10 days.
We recruit for practical work parties on nature reserves between September and February.
First step: Complete the online form
Next step: We'll contact you once we've received your form and if we think we have something to offer you then we'll invite you to our next orientation session. If we don't have anything to offer you we'll sign-post you or ask you to come back to us in 6 months time.
Final step: Once you've attended this session, we'll arrange an induction and agree a start date.
Some roles require two references so the whole process from initial enquiry to starting volunteering can take up to six weeks but once you're on board we'll offer you training, experience, skill development and the chance to meet great people whilst having fun! (some roles can start more quickly)
For an informal chat about volunteering with Shropshire Wildlife Trust, contact Diane Monether Volunteer Coordinator - dianem@shropshirewildlifetrust.org.uk or 01743 284296.
You may also be interested in..
Winter work party program 2018-19