I have always cared about the environment and dedicated the last 2 decades to managing land for wildlife, it is important to me that in the future Shropshire Wildlife Trust will ensure my land is protected and my vision is sustained.
Why leave a gift in your Will?
Wildlife in Shropshire is declining at an alarming rate. Leaving a gift in your will to Shropshire Wildlife Trust is a great way to make a lasting contribution to local places and wildlife.
Anyone can leave a gift to Shropshire Wildlife Trust when making a will. No matter how small it will help us safeguard habitats and ensure our vision for a landscape rich in wildlife. 
This means...
We will keep on buying the most important pieces of land in Shropshire to keep them safe for future generations
We will work with landowners, developers, businesses and farmers to make space for nature and clean up our rivers
We will ensure there are opportunities for people of all ages to learn about and cherish wild places
We will fight alongside communities to safeguard their green space for exercise, health and well being
The next step:
If you would like to discuss including us in your will, please click here to contact Tom Hayek the Trust's Legacy Manager or call him on 01743 284 274.
Please let us know if you have included a legacy to Shropshire Wildlife Trust in your will. This not only helps us to plan for the future but also means we can keep you up to date with the work of the Trust, should you wish to do so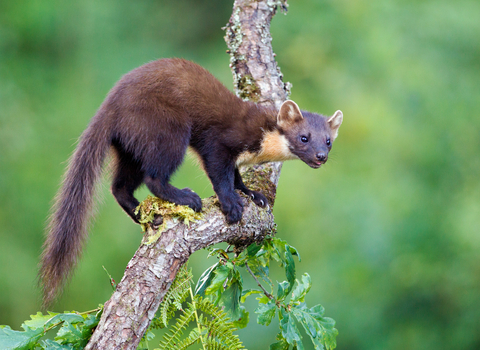 Pine martens
Gifts in wills have enabled us to monitor the first population of pine martens discovered in Shropshire for 100 years. Over the last two years, 9 individuals have been identified. Working with local landowners and communities we are hopeful this population will have high quality habitats to live and breed in, ensuring they can thrive. 
Donations in memory
At times of loss, friends and family often express their sympathy by sending flowers, but cut flowers are short lived. Through a donation to the Trust, you can make a lasting memorial for your loved one. Your donation will help preserve Shropshire's woods, meadows, hills, wetlands and wild heathland - forever.
Memorial trees
We often receive requests from people asking to commemorate a loved one with a memorial tree on one of our nature reserves. Not all our reserves are suitable for this but there are four places where we can offer tree planting opportunities, providing a chance to shape a beautiful landscape in years to come -
Pontesford & Earls Hill, near Pontesbury (trees in open ground)
The Hollies on The Stiperstones (trees in open ground)
Melverley Meadows, near Whitchurch (hedgerow trees)
Lightmoor, Telford (hedgerow trees)