I have always cared about the environment and dedicated the last 2 decades to managing land for wildlife, it is important to me that in the future Shropshire Wildlife Trust will ensure my land is protected and my vision is sustained.
Your gift makes a big difference
Wildlife in Shropshire is declining at an alarming rate. Leaving a gift in your will to Shropshire Wildlife Trust is a great way to make a lasting contribution to local places and wildlife.
Anyone can leave a gift to Shropshire Wildlife Trust when making a will. No matter how small it will help us safeguard habitats and ensure our vision for a landscape rich in wildlife. 
The next step:
If you would like to discuss including us in your will, please click here to contact Tom Hayek the Trust's Legacy Manager or call him on 01743 284 274.
Please let us know if you have included a legacy to Shropshire Wildlife Trust in your will. This not only helps us to plan for the future but also means we can keep you up to date with the work of the Trust, depending on your preferences.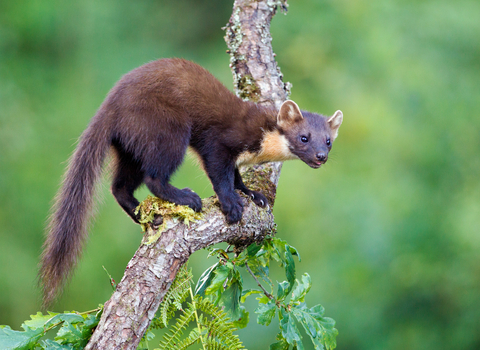 Recent legacies
The Shropshire pine marten
Gifts in wills have enabled us to monitor the first population of pine martens discovered in Shropshire for 100 years. Over the last two years, 9 individuals have been identified.
Working with local landowners and communities we are hopeful this population will have high quality habitats to live and breed in, ensuring they can thrive. If you would like to find out more about our pine marten work, click here.
Our promise to you
Legacies are so valuable to our work for local wildlife. If you would like to leave SWT a gift in your will we promise to:
Keep on buying the most important pieces of land in Shropshire to keep them safe for future generations
Continue our work with landowners, developers, businesses and farmers to make space for nature and clean up our rivers
Ensure there are opportunities for people of all ages to learn about and cherish wild places
Fight alongside communities to safeguard their green space for exercise, health and well being
Other ways to support your local Wildlife Trust
There are lots of ways to help the local wildlife and wild places you love.