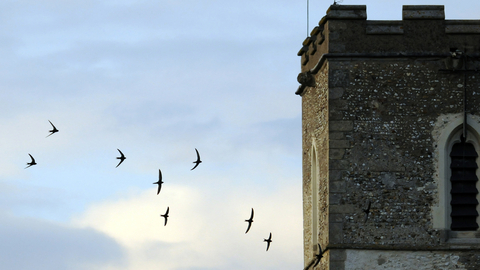 Swifts and Us
Location:
Zoom,
Link will be sent to you in the confirmation email, check your inbox!
Book
The Life of the Bird that Sleeps in the Sky
About the event
Sarah Gibson, author of Swifts and Us, due for publication on 13th May, presents an online talk all about her favourite bird: the swift. 
Swifts live almost entirely in the air.  They eat, drink, sleep, mate and gather their nesting materials on the wing, fly thousands of miles across the world, navigating their way around storms and depressions, never lighting on tree, cliff or ground, then back to the same hole under the eaves, which their sharp-clawed feet shuffled over the previous year.  Each summer they bring us three months' joy, scything over the rooftops in screaming groups, stirring wonder and excitement in those that notice them.
This is a story of discovery, exploring the swift's life from its earliest beginnings 50 million years ago to recent revelations about migration routes. Swift numbers in the UK are in steep decline and loss of nesting holes is causing huge concern for their future. Often unintentionally, we are sealing our homes against wildlife of any kind.  The stories of people in the UK and across Europe striving to ensure a future for swifts are woven into the narrative, demonstrating how change is brought about by passionate, determined individuals, whose actions show that everyone can do something to keep these superb birds screaming through our skies.
Booking
Suggested donation
£4.00 per person
Contact us
Shropshire Wildlife Trust