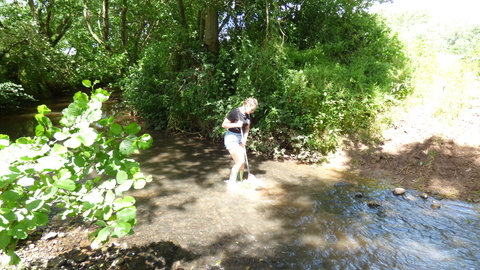 River Health Training Drop-in @ Cantern Brook, Bridgnorth
Location:
Cantern Brook, Dingle View, Bridgnorth, WV16 4JL,
(meeting at Dingle View opposite number 12)
Join us at this FREE drop-in session for some beginner level training on monitoring the health of your local watercourse.
Event details
About the event
This training session is roughly two hours long and gives a hands-on run through of how we can all monitor and look after our local watercourses in our own time and to our own means. 
We will conduct water chemistry tests, kick sampling to survey the aquatic wildlife and keep an observant eye out for any other wildlife spots or signs of pollution. 
The training has been developed to give wildlife enthusiasts as well as those that may work in a relevant sector some informal training on how they may monitor their rivers. 
Before joining you might want to download the free River Health Checker App: https://www.shropshirewildlifetrust.org.uk/river-app  which can also be used to record your findings. All data submitted will become part of a national dataset which is used to inform conservation efforts. A demonstration and run through of the app and its features will be given as well as hands-on help throughout the session. 
You will be conducting your own tests and surveys so don't forget your wellies and any other weather appropriate clothing - i.e. water proofs, spare socks, hat, gloves etc. 
This training is FREE as part of the River Friendly Shropshire Project funded by the Royal Society of Chemistry and the Environment Agency. 
Booking
Price
FREE
Additional booking information
This is a free drop-in session, there is no need to book. Email jennas@shropshirewildlifetrust.org.uk with any queries
Know before you go
What to bring
Wellies
Spare socks
Waterproofs
Weather appropriate clothing e.g. waterproof coat, extra layers, gloves... sun hat, sun-cream etc.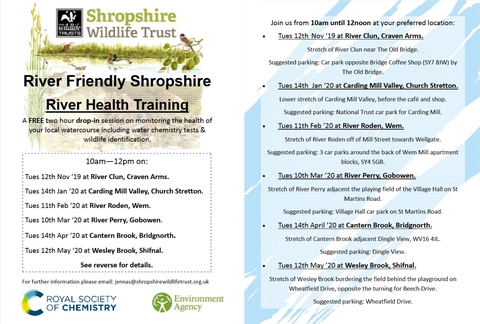 If you can't make it at this date and location there is 1 more drop-in after this one (and 4 before) for you to choose from that might suit you better.