Our vision is for Shropshire to be alive with wildlife, loved by people and its wild places restored.
We are the only charitable organisation in the county focused solely on nature conservation in Shropshire. Ours is a beautiful county, but nature here has suffered decades of destruction, just as it has elsewhere.
We need your support to help turn our vision of nature recovery into reality. Shropshire Wildlife Trust is one of 46 Wildlife Trusts working across the UK. For nearly 60 years we have worked to protect Shropshire's special places and wildlife for generations to come.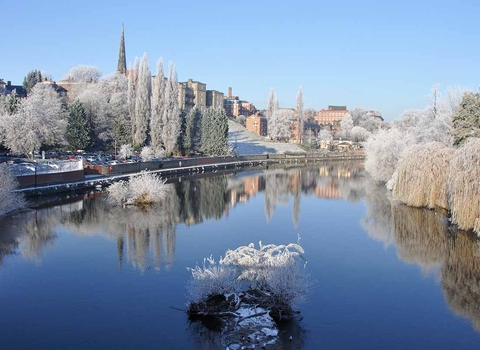 Protecting our blue network
Shropshire has over 3,846 miles of water course. We work to tackle pollution, mitigate flooding and raise awareness about the importance of healthy rivers for people and wildlife.
Find out more
Sign up to our e-newsletter for the latest Shropshire wildlife news and events!
The Wildlife Trusts
Shropshire Wildlife Trust is part of The Wildlife Trust movement. There are 46 Wildlife Trusts across the whole of the UK, the Isle of Man and Alderney. With 825,000 members The Wildlife Trusts are the largest UK voluntary organisation dedicated to conserving the whole range of the UK's habitats and species.
Shropshire Wildlife Trust is an independent, autonomous charity with its own Trustees. We are a member of the Royal Society of Wildlife Trusts (RSWT) which operates as an umbrella organisation for all 47 Wildlife Trusts and helps coordinate campaigns at a national level. RSWT is a separate charity in its own right - we are not governed by RSWT.
Mission Statements
Badgers and TB

The Wildlife Trusts are very conscious of the hardship that bovine TB (bTB) causes in the farming community and the need to find the right mechanisms to control the disease.  However, we strongly believe that a badger cull is not the answer and we have been working to develop a humane and practical alternative; vaccination. We are one of twelve Wildlife Trusts who since 2011 have worked nationally to vaccinate around 1,000 badgers in partnership with vets, farmers and landowners. Currently we are working with Shropshire Badger Group who are continue a vaccination programme and would never permit badger culling to take place on our own nature reserves in Shropshire. 
Fox hunting

The Hunting Act 2004 is the law which bans chasing wild mammals with dogs in England and Wales – this basically means that fox hunting, deer hunting, hare hunting, hare coursing and mink hunting are all illegal. Prior to this the Trust did not allow hunting on our land though previously we were unable to prevent a hunt from crossing our nature reserves if using a legal right of way.  The law is now clear on this issue and we are grateful to members of the public and hunt monitoring groups who let us know of illegal hunt activity. Where we have sufficient evidence we report incidents to the Police to investigate and take enforcement action.
Beavers

We want to see more wildlife-rich wetlands in the landscape, and land and watercourses managed in a way that slows the flow of water towards the sea. Beavers are an integral part of this and the Trust is actively pursuing the possibility for the reintroduction of beavers to Shropshire on secure sites. Such wetlands provide excellent habitat for wildlife and can be a real positive for nature tourism.
 
In the UK, where beavers have become re-naturalised outside of secure sites, there have been localised issues with landowners where private land has been flooded and crops damaged along the riverside. We believe that farmers should be compensated for this damage and they should be paid to farm with wildlife, providing 'public goods' or public money. These wetlands slow the flow of streams and rivers, and protect land downriver from flooding, reduce siltation and improve water quality and benefit each and every one of us