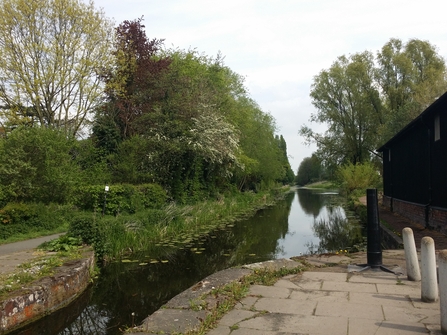 Newport-Norbury Branch Canal was completed in 1835. Following the arrival of the railways, canal trade declined slowly until 1921, and ceased here by 1929.  In 1944 the London, Midland and Scottish railway Company gave up the canal and it passed mainly into private hands
Parts of the canal route has been infilled and degraded but in 1966 the section through Newport was restored to water. By 1986 the canal was supporting a rare plant community, forming a high quality and much loved green space through the town. Also in 1986 the linear waterway of the canal and its wetland margins were declared a Site of Special Scientific Interest (SSSI), giving it national recognition and protection. Since that time sadly the range and number of rare aquatic plants has been in steady decline. This is due to a number of factors including poor quality water and a loss of water depth from siltation. More info on the SSSI can be found here: https://designatedsites.naturalengland.org.uk/SiteDetail.aspx?SiteCode=…
The good news is that we applied to the Water Environment Grant, organised by Natural England, and have been successful in receiving funding from The European Agricultural Fund for Rural Development (Europe investing in rural areas), to help towards restoration of the upper two sections of the canal SSSI. 
Shropshire Wildlife Trust are / will be working with:
> Telford & Wrekin Council
> Natural England
> The Shrewsbury & Newport Canals Trust
> Angling societies
> The public
> The Environment Agency
> Severn Trent
> Contractors 
> Harper Adams University (student dissertation)
The project comprises:
> Consultation
> Fishery surveys
> Summer botanical surveys: years 1 (completed) & 2
> Protected species surveys: years 1 (completed) & 2
> Precise & careful silt dredging of sections: early winter 2019 & 2020 (Phases 1 & 2)
> Water quality assessments: years 1 & 2
> Information board installation
The  public consultation was held on Tuesday 21st May 2019, in Cosy Hall, alongside the canal. The level of interest and interactive audience was greatly appreciated. We made adjustments based on comments and queries made.
How might the works affect you? 
•Towpaths Sections: possible temporary closure/diversions. We will strive to keep them open!
•Trees & shrubs: some need to be trimmed back / crown-lifted to allow machinery access. Any removed will be replaced.
•Large machinery needs to gain access e.g. for dredging
•Dredged silt will be spread across nearby rough ground and may produce an odour for a few days. These areas will ultimately be seeded with appropriate wildflower/grass mixes.
•The water may initially look cloudy and barren after dredging, and may cause an algal bloom through release of disturbed nutrients
•Surveyors will be visiting the canal to undertake wildlife/water quality surveys.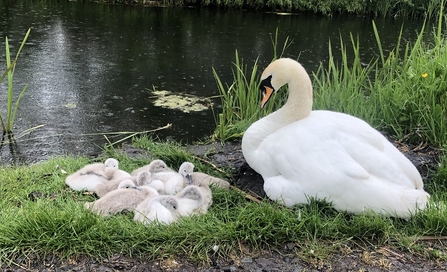 How can you help/be involved?
You are the eyes and ears for this special site!
•Submit your Wildlife Sightings
–Please submit general sightings to iRecord: https://www.brc.ac.uk/irecord/
If you are unsure or may have a rare sighting, you can check with a local expert. Contact details via the Shropshire Ecology Data Network: http://www.shropshireecology.co.uk/
If you see anything you are concerned about, please get in touch. Contact:
•Environment Agency for pollution incidents: 0800 80 70 60 
•Telford & Wrekin Council for any waste/ fly tipping: https://webforms.telford.gov.uk/form/18
Slugs & Snails:
We all know slugs love tasty young leaves in our gardens! Try coarse grit, beer traps, copper tape, nematodes and encourage natural predators. •Older-style metaldehyde-based pellets are being phased out as they are poisonous to many kinds of other wildlife, including dogs and hedgehogs. •Metaldehyde from gardens is found in the Strine Brook, which feeds into the canal, affecting wildlife. •If you feel you need to use slug pellets, please make the switch to ferric phosphate-based pellets. 
Other ways you can get involved include:
Shrewsbury & Newport Canals Trust run regular work parties to help take care of the canal: http://cms.snct.co.uk/NSG
Check out the SWT page on Non Native Invasive species: https://www.shropshirewildlifetrust.org.uk/rivers/non-native-invasive-species-associated-fresh-water-uk
Another big ask is: We love dogs, and we know they love the water. But if you really love the special wildlife in the canal, it would be great if you can keep dogs out of the water – thanks! There's also the potential for a blue-green algae bloom following the dredging, which is toxic to dogs.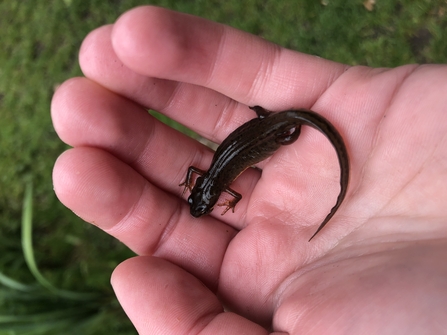 When will you see improvements?
•We hope to see the turbid waters settle, substrates stabilise and biodiversity start to improve after about a year.
•Close monitoring will be needed to ensure re-colonisation is by appropriate species rather than non-native invasive species.
Follow us: https://twitter.com/LYR_Shropshire
#NewportCanalSSSIRecovery
Summer 2020 updates:
Following a number of online video calls with key stakeholders and interested parties, we are moving towards Phase II canal dredging works and generation of a re-invigorated management plan for the site. Once sediment testing is complete and the contractor has been selected and notified, dredging is anticipated to commence late September-October 2020, over a period of approximately two weeks (avoiding weekends). This timing avoids school holidays, therefore footfall on the towpath is reduced, and is better suited for wildlife. A temporary footpath diversion is likely to be required, as in 2019, so please look out for signage nearer the time. We hope that Phase II of this project will, once again, cause minimal disruption, and, in combination with the efforts in 2019, will achieve measurable benefits for local people, tourists and wildlife alike, complementing the hard work undertaken by the local community groups and volunteers to protect this beautiful slice of canal.
Winter 2019 updates:
WM Longreach worked hard, often through difficult weather conditions, to successfully complete this season's dredging of the canal section (details under the 'Autumn 2019 updates' below). Please see the link to the report for the Phase I dredging works below.
Discussions on the next steps will take place from spring 2020 - we'll keep you posted!
Autumn 2019 updates:
Following a long and detailed period of investigation and consultation with stakeholders over the summer, we have now appointed a contractor to carry out the dredging in particular sections of the Newport Canal.
WM Longreach are a Bridgnorth based family company with a long and excellent record in complex aquatic engineering including work on the restored Chesterfield Canal. All necessary environmental permits, exemptions, assents, botanical surveys, protected species surveys, sediment analysis, method statements, risk assessments, fish assessments, environmental protection measures, upstream walkovers, access review and more are now complete.
The  dredging operation will have five phases as below:
Mobilisation on site with placement of the teams welfare hut ; preparatory tree-works, including branch removal and de-crowning to allow machinery movements; delivery of plant – excavator, dumper and hopper barge. Please note any trees and woody shrubs removed during the operations will be replaced by the Shropshire Wildlife Trust.
Dredging of canal on town side of Fishers Lock – sediment will be spread in upper section of Strine Park (bunded with soil and allowed to drain and settle – this will be eventually seeded with a wildflower and grass mix)
Dredging of canal on upstream side of Fishers Lock and section downstream of Summerhouse Bridge – sediment will be spread in woodland at upper end of Strine Park
Dredging of canal upstream of Summerhouse Bridge – contracting team will enter this area from A41 – sediment will be spread in area of Norbroom Park, previously a landfill site.
Clearing up, making good and securing the site
The dredging is currently planned across 4 weeks, from Monday 21st October to Friday 15th November 2019 (see maps in image gallery below). The aim is to minimise disruption and avoid footpath closure though there will be temporary diversions and a banksman on site at all times to help supervise the machines and pedestrian traffic. During the dredging operation there will be a display in Cosy Hall about the recovery programme and contact numbers will be displayed on site in case of concerns.
The aims of the conservation dredging is to recover deep water for the benefit of the unusual plants that are found in the canal which sadly have been in decline in variety and number as the canal has silted up. The deepening of the water will also benefit fish as the canal if too shallow in paces for fish to happily swim. The sediment may smell a bit but will settle quickly and any discolouring to the water will also clear soon after the works. The canal feed from the Strine will be on all through the dredging operation and checks will be made on water quality and fish health during the works. When the dredging is complete we will be monitoring the site and carrying out follow-up works all the way through till March 2021.
2019 Newport Canal SSSI Dredging Report
Finally we would like to thank the funding team at Natural England and the European Fund for Rural Development for the Water Environment Grant that has made this all possible. This is a partnership project between Shropshire Wildlife Trust, Telford and Wrekin Council, Shrewsbury and Newport Canal Trust, AUDCO, Telford Angling Association and Honeysuckle Angling Club.