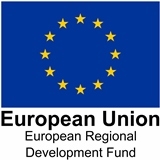 Freshwater First ERDF Programme is a £2.5m partnership project part funded by the European Regional Development Fund that will deliver a programme in Shropshire and Telford of:
• green and blue infrastructure enhancements
• wetland habitat creation and restoration
• installation of urban retrofit sustainable drainage schemes
• the removal of strategically significant barriers to fish movement
• habitat creation in relation to a major canal restoration
Work will take place in 18 locations across Shropshire and Telford and will make positive biodiversity gains on 114 ha of habitat. The three year project started in January 2017.
The 'Freshwater First' project is led by Shropshire Wildlife Trust supported by delivery teams at Telford and Wrekin Council, Shropshire Council, Canal and River Trust, Severn Rivers Trust and Environment Agency. ERDF have committed over £830,000 to support the Freshwater First programme.
Rivers, stream and wetlands in urban areas face considerable pressure in terms of water quality, negative impacts and losses to development. Site connectivity and quality is key to their continuing value for natural capital, local water management and biodiversity targets. Freshwater First is supporting a series of site works that restore nature conservation interest, create new wildlife habitat, improve local resilience to extreme weather events and simultaneously improve the biodiversity quality of the connecting green corridors in urban Shropshire and Telford.
Shropshire Wildlife Trust working with Telford and Wrekin Council have set out on an ambitious programme of wildlife habitat improvements at 6 Local Nature Reserves and Wildlife Sites in urban Telford. Ponds at Telford Town Park, Apley Woods and Ketley Paddock Mound will be restored. Whilst valuable and fragile wetlands in Lightmoor, Dothill and Muxton Marsh will be expanded and protected in a busy programme over the next two years. In Ellesmere, the Shropshire Wildlife Trust reserve of Birch Road Pond will also be the beneficiary of works to enhance access and recover open water habitat. These activities of the Freshwater First programme will support key populations of amphibians, reptiles, aquatic plants and water fowl.
The Freshwater First programme includes action on surface water flooding in Telford. Four highway rain gardens are to be created where conventional piped drainage is replaced by natural solutions. The locations at Sambrook, Hatton Court, Bratton and Halesfield, will see the creation of grassy swales or shallow open ditches and rain gardens [vegetated basins] to allow water infiltration into the ground.
Working with Shropshire Council and utilising the principle of Natural Flood Management the Freshwater First programme is supporting the creation a wetland complex at Battlefield, north of Shrewsbury to address highway flooding issues. The programme is also providing £100,000 to restore Westwood Quarry near Much Wenlock to support the recovery of a lime loving plant community and improve visitor safety to this important geological SSSI.
Migratory fish have quite literally battled up our river systems against numerous obstacles and in the face of declining water quality and lack of spawning habitat. The Freshwater First programme is supporting the Severn Rivers Trust to unlock 60km of South Shropshire river habitat by the installation of three fish passes. The fish passes are to be installed at Mill Street Weir, Ludlow; Ashford Weir on the Teme and on the River Corve in Ludlow.
In the north of the County a different sort of waterway has felt the benefit of the Freshwater First programme. Over £150,000 has been contributed to the £1.1m scheme to create a series of off-line pools to support the ecological recovery of the Montgomery Canal at Aston. The Canal and River Trust have a long term aim to restore the Montgomery Canal from Welsh Frankton to Newtown. To do so the unique aquatic community needs to find refuge in open water reserves whilst the navigation is re-excavated. Over three football fields worth of pools now stand ready for rare plant re-introductions and nature's invasion.
The Wesley Brook in Shifnal though facing challenging problems with water quality and urban encroachment is a focus for another Freshwater First initiative to restore natural features and improve fish spawning potential.
In order to measure the success of the work programme we are using five methods of monitoring: Fixed point photography, ecological assessment, visitor counts, water quality sampling and migratory fish counts.
If you would like to find out more about the Freshwater First ERDF programme please contact:
Pete Lambert, River Projects Manager, Shropshire Wildlife Trust
petel@shropshirewildlifetrust.org.uk
@LYR_Shropshire #FreshwaterFirst