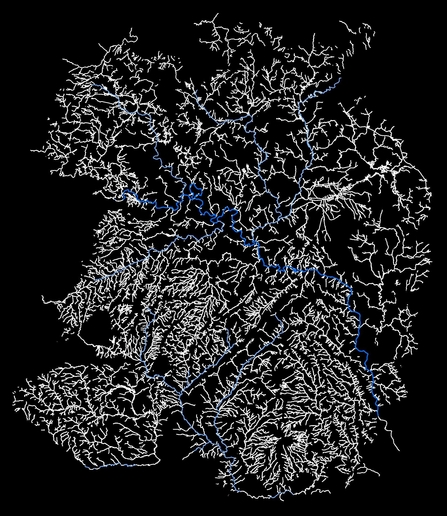 Shropshire Wildlife Trust are working with a variety of partners to bring local knowledge and expertise to help improve our wild water environments.
A catchment is a term used to describe an area defined naturally by where the surface water collects and flows through the landscape. 
Nature doesn't conform to parish boundaries or county borders!
For this reason it is important that we all work together so we can have a coordinated approach to helping to protect and restore our water environments.
"The Catchment Based Approach (CaBA) brings people together to think about each river catchment as a whole" - Arlin Rickard, Chair, CaBA National Support Group
Shropshire Wildlife Trust co-host the Shropshire Middle Severn CaBA partnership with Severn Rivers Trust. The catchment partnership is a group that works with stakeholders to agree and deliver strategic priorities for the catchment and support the Environment Agency in developing an appropriate River Basin management plan.
A number of organisations sit on the working group including the Environment Agency, Natural England, Severn Trent Water, Shropshire Council, Telford and Wrekin Council, the National Farmers Union, the Telford Green Spaces Partnership, the Canal and Rivers Trust, RSPB, Campaign for the Farmed Environment, the Meres and Mosses NIA and BESST, the Strine Internal Drainage Board, and the University of Wolverhampton.
The main advantage of the CaBA partnership is that the different organisations on the working group can develop projects collaboratively, using the different strengths of the individual partners to deliver great quality projects that really make a difference to our precious water environments.
You can find more information about the Catchment Based Approach at the following downloads and links:
https://www.gov.uk/government/uploads/system/uploads/attachment_data/file/204231/pb13934-water-environment-catchment-based-approach.pdf
Download the Catchment Plan